Christine Wu, DDS
General Dentistry
Dr. Christine Wu
Education
Dr. Wu began her dental career working as a dental assistant during college. That experience confirmed her passion for dentistry and her desire to help people with their oral healthcare. Dr. Wu received her undergraduate degree in Medical Technology at the University of Washington and subsequently graduated from the
University of Washington School of Dentistry
. After graduating from dental school, Dr. Wu worked in a private dental practice in the Seattle area. She has experiences working with patients from all ages and is fluent in English, Mandarin, and Taiwanese. Her genuine and kind spirit is well-liked by both her current and previous patients.
Volunteer and Service
Dr. Wu believes in giving back to the community as much as she can. One of her favorite programs is the annual Seattle King County Clinic. Dr. Wu has been a volunteer every year since the program started in 2014 and has provided free dental care to those who do not have a regular dental home.
Faculty Positions
Besides her work in private practice, Dr. Wu is an Affiliate Faculty member in the
Oral Medicine Department
of the University of Washington School of Dentistry. She enjoys working with students and giving back to her alma mater. Dr. Wu is also a part of the interviewing board for applicants to the University of Washington School of Dentistry.
Outside the Office
Dr. Wu is an avid sports fan as she enjoys watching and playing basketball, tennis, and swimming. Dr. Wu also appreciates the fine arts. She has been playing piano since she was 5 and also played clarinet and tenor saxophone during her school years. As with most people, she loves to travel and would love to hear your memorable travel stories and/or recommendations on where she should visit next!
Christopher Shyue, DDS
General Dentistry
Dr. Christopher Shyue
Education
Dr. Christopher Shyue is a Seattle native and a "triple" University of Washington (UW) Husky: he completed his dental education at the
University of Washington School of Dentistry
, received a double degree in Biology (Bachelor of Science) and Economics (Bachelor of Arts), and also attended several courses as a high school Running Start student.
Service and Recognition
Dr. Shyue is passionate about the positivity that dentistry brings, including increased confidence, improvements in overall health and quality of life. As a dental student, he volunteered extensively in providing care to patients in underserved communities. He received the Exemplary Service Award from UW School of Dentistry's Office of Educational Partnerships and Diversity for his leadership and service. As a dentist, he continues to engage in community service regularly. Dr. Shyue has extensive experiences in community health settings. During dental school, he completed an externship with Indian Health Service at Blackfeet Community Hospital in Browning, Montana and a second externship with Community Health Care at Lakewood Family Dental Clinic in Lakewood, Washington. After dental school, Dr. Shyue worked as a general dentist at Columbia Valley Community Health in Wenatchee, Washington. Dr. Shyue feels extremely fortunate to be a part of these amazing organizations. Through these experiences, he learned important lessons in clinical proficiency, patient care, team building, and office management. He continues to advance his training and strive for excellence through various continuing education courses. Dr. Shyue received several awards during his time at the UW School of Dentistry, including the Ozar-Hasegawa Dental Ethics Award sponsored by the
American Society for Dental Ethics
, the Dental Practice Administration Award, and the Academy of Dental Materials Award.
Outside the Office
Dr. Shyue spent a part of his childhood in Taiwan, where he became fluent in Mandarin (Chinese) and Taiwanese. In high school, he took two years of Japanese, but he is embarrassed to admit that he can hardly introduce himself in Japanese now. He also regrets not learning more Spanish when he worked at Columbia Valley Community Health, as more than half of his patients spoke Spanish. Outside of work, Dr. Shyue enjoys road cycling and trains for long-distance riding events, including Seattle to Portland (STP) and Ride from Seattle to Vancouver to Party (RSVP) with Cascade Cycling Club. He also loves traveling, learning about different cultures, and enjoying regional gastronomy.
Junie
Junie
Office Manager
Junie started her dental career as a dental assistant over 20 years ago. Subsequently, she transitioned to the front office where she continues to utilize her dental knowledge and experience. June enjoys getting to know our patients and establishing long-term relationship with them; she also enjoys helping patients with their dental insurance questions, so that they can get the most from their dental coverage. In her free time, Junie enjoys painting, which gives her a sense of fulfillment by expressing herself on canvas. She also likes sewing, knitting, and making crafts. Also, she enjoys spending quality time with her family and friends, especially her two wonderful sons.
Kyley
Kyley
Front office / Registered Dental Assistant
Kyley is new to the field of dentistry. She is training to work at the front office and also assist with dental procedures. She is very excited to learn all she can and gain experience in this field. Kyley was born and raised in the Snoqualmie Valley and lives in North Bend. In her free time, she enjoys camping, fishing, hiking, baking, and making crafts.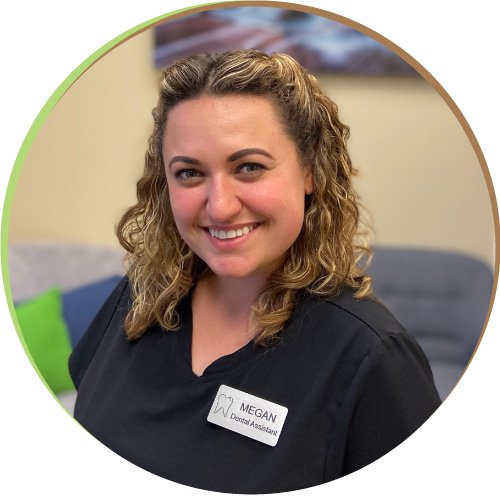 Megan
Megan
Certified Dental Assistant
Megan is so happy to join the
Snoqualmie Ridge Family Dental
! She went to school at Renton Technical College for Dental Assisting. Megan graduated with a dual associate's degree and a certification from the Dental National Assisting Board (CDA). She currently lives in Issaquah with her fiancé and Border collie mix, Paisley. When she is not working, she enjoys getting outside either hiking with her dog or participating in fun 5Ks with friends or family. She also enjoys singing and traveling. Megan loves her job as a dental assistant because of all of the great patients she gets to meet and interact with.
Rachel, RDA
Rachel, RDA
Registered Dental Assistant
Rachel is new to the world of dentistry. She is training to work at the front desk and assist with dental procedures. She graduated with a bachelor's degree in Anthropology and in Theatre from Pacific Lutheran University, and is pursuing an education in pathology. She is excited to learn all she can at the dental office. She was born and raised in Ravensdale. Every summer, she volunteers as a camp counselor at a camp for children with diabetes. When she's not at work, she enjoys going to the beach, painting, singing, playing games, and hanging out with her friends all over the Seattle area.
LET'S TALK ABOUT YOUR SMILE
Book Your Consultation Today!
Request your appointment online, call us directly, or just stop by our Snoqualmie dentist office to get to know us.